Private Hire Taxi Preparation Course
Secure Your Future With Our Online Teachers
Need help?
Speak to our support team on 01158376502
Find out more about the Taxi Knowledge Private Hire course.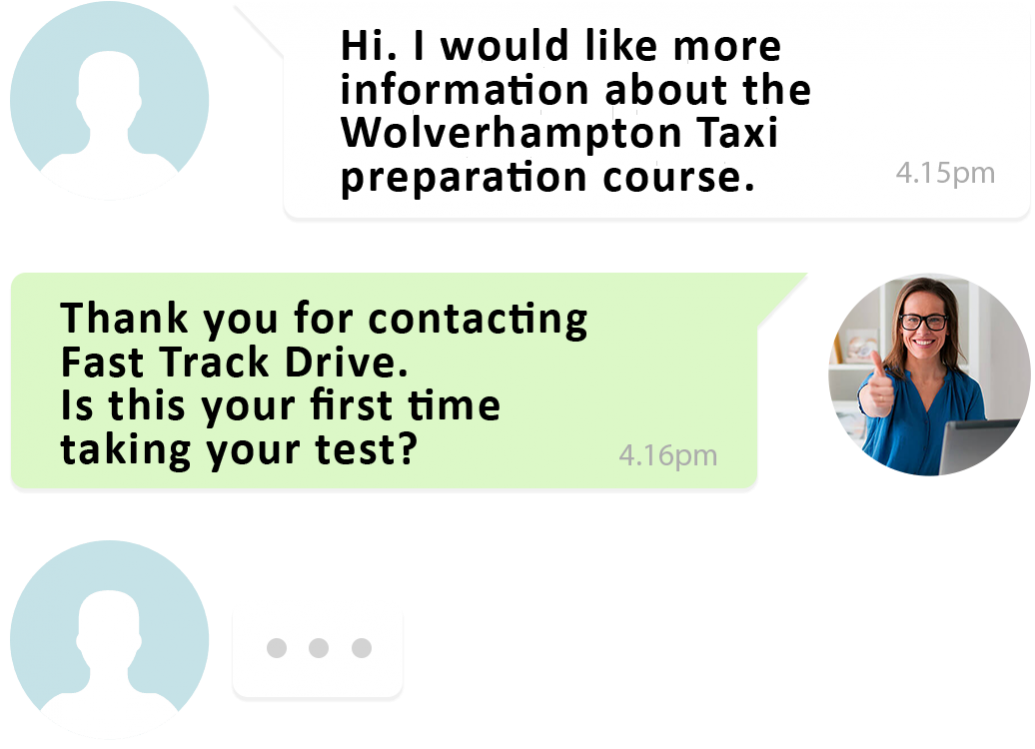 HOW DO ONLINE LESSONS WORK?
Lessons are completed using Zoom and our online learning platform Fast Track Dashboard 2.0. We teach in group classes with qualified British teachers. You will speak to your teacher while completing activities and practice questions on your laptop, smart phone or tablet.
WHAT TIME ARE CLASSES?
Lessons are 1 day a week (Sunday 12-2pm) and each class is 2 hours long. If you miss a class please don't worry each class is recorded and available for 30 days. Our 1:1 training is 8 hours long with a teacher and is flexible to fit around your work schedule, we are available Monday-Sunday 8am-late evening.
WHEN DOES THE COURSE START?
Whenever you want! Our 1:1 courses are from Monday-Sunday 8am-8pm with additional times available if you are busy. Our group classes are every Sunday 12-2pm. When you first register, you will instantly have access to all of our training materials and videos. A teacher will contact you to arrange your training times within 24 hours.
HOW LONG DOES THE COURSE TAKE?
On average it takes around 4 weeks to prepare each student to pass the exam. The course is flexible however and some students can pass in as little as 1-2 weeks while others may take up to 3-5 weeks. If you require a faster turnaround please contact our main teacher https://bit.ly/RahilTeacher.
HOW MUCH DOES IT COST?
£195 for our unlimited group lessons 2 hours per week or £295 for 8 hours private lessons with a teacher any time from 8am-late evening. Both these courses include all the materials in our Fast Track Dashboard 2.0 area, 2 hours of teaching per week and feedback from a teacher on how you're doing with your questions and answers. You can always upgrade your classes for more 1:1 private lessons if you so desire.
IS THIS EXAM SUITABLE FOR UBER?
Yes, the Wolverhampton taxi private hire badge is suitable for UBER driving purposes. You can drive anywhere in the UK as a cross boarder taxi driver in any city in which UBER operates.
HOW CAN A TEACHER HELP ME PASS QUICKER?
Passing your Wolverhampton Taxi test and applying for your badge is not easy. Joining our online classes and learning with a teacher is the easy way to securing your future. Why take the chance? Save time and use a teacher for guaranteed success!
WHAT HAPPENS IF I DO NOT PASS MY TEST FIRST TIME?
We provide unlimited group training for all students if they do not pass their exam first time. The reason for this is that every student is an individual and learns differently to one another. Each student must feel confident that their teacher will support them even if they fail. As a result, all students receive unlimited group training until they pass their exam as standard.
ARE ALL THE MATERIALS INCLUDED IN THIS COURSE?
Yes. all training materials needed to pass your Wolverhampton taxi knowledge test first time are included in this online training course. We include training videos, presentations and special question and answer sheets accurate to the real test.
Read Our Student Reviews
KVairiah Kathirkaman


August 12, 2021

I've done my taxi training here and now I'm a Wolverhampton taxi driver. They took us for training in the classroom and helped me with my application. It was very easy but they also helped me with the Nottingham taxi badge for my city. This was included in the training to make sure I had options in case something happened to my badge in the future. Overall the badge cost money with the council and the training cost with these guys but it was a worth it. i got the badge in a month. I would recommend these guys for others.

Wayne Zelinski


October 12, 2018
Watch Our Successful Students: